CELEBRATE
Enjoy a day on Lake Travis with up to 70 family members and friends on one of our double decker party barges, Big Bird, Elmo, or Cookie Monster. We provide everything necessary for a great day in the sun:
-Large grill with propane
-Sound system (just bring your phone or mp3)
-Adult life jackets for all 70 guests
-Noodles Chairs
-Tables
-Ice chest
-Bathroom
-Tube slide running from the second floor to the water!
Call today to schedule a holiday celebration, corporate event or just a day of fun with family and friends!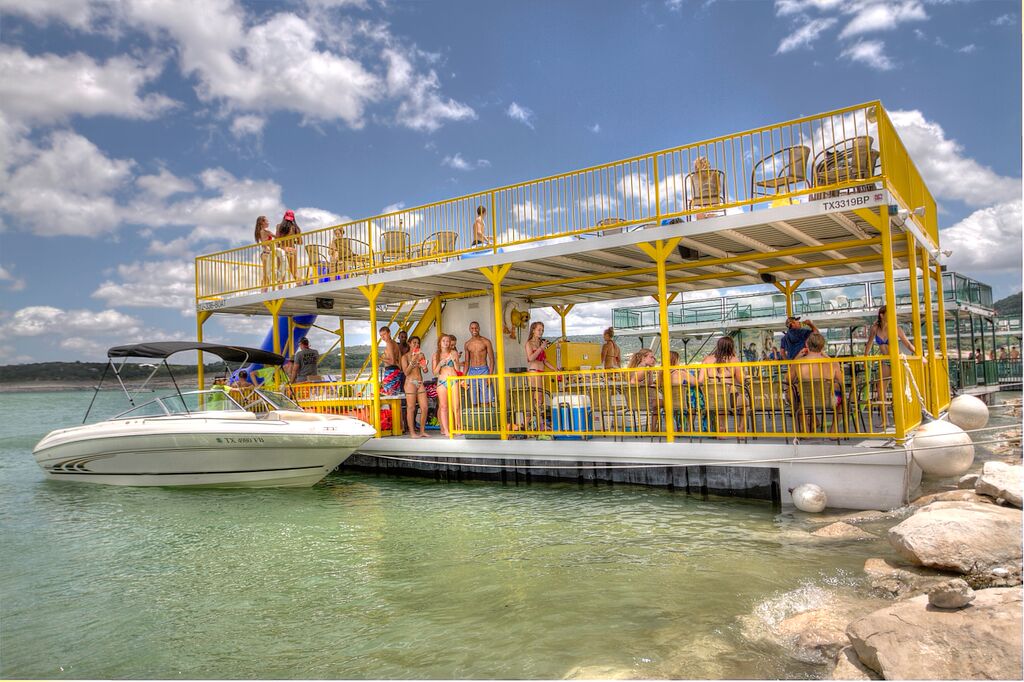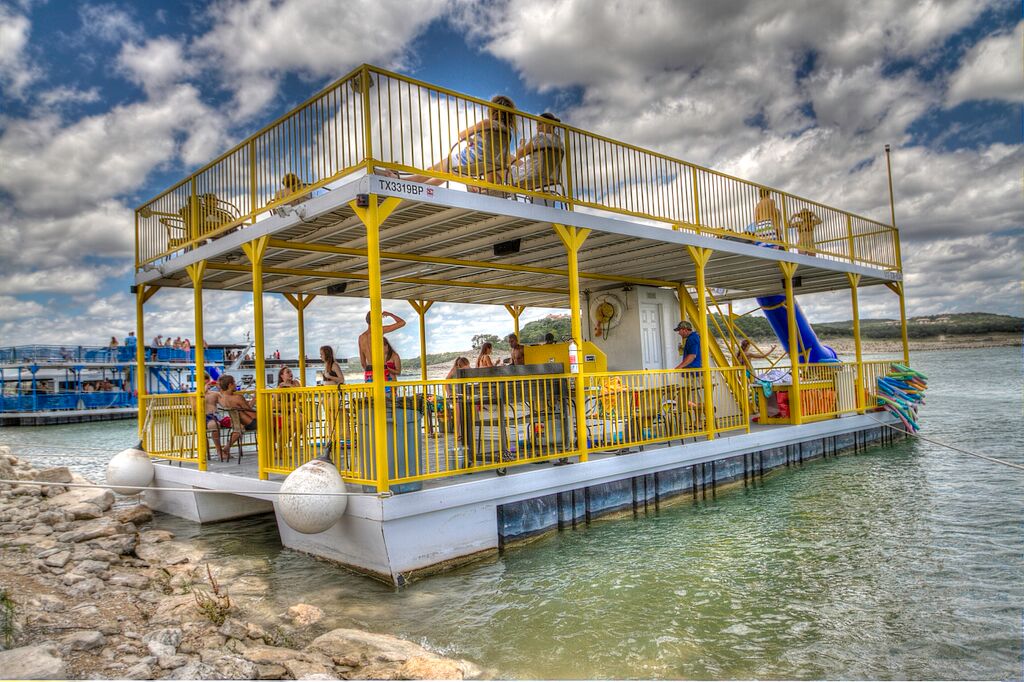 PARTY BARGE HOURLY RATES

PEOPLE

3 HOURS

4 HOURS

5 HOURS

6 HOURS

7 HOURS

8 HOURS

UP TO 25

$480

$600

$750

$900

$1,050

$1,120

UP TO 50

$525

$660

$825

$990

$1,155

$1,240

UP TO 70

$645

$820

$1025

$1,230

$1,435

$1,560
Taxes and Captains Gratuity not included in these prices.
ALL SATURDAYS AND HOLIDAY WEEKEND RATES ARE $1,100.00 plus taxes and gratuity.
ALL TIMESLOTS ON SATURDAYS, SUNDAYS AND HOLIDAYS ARE:
TIMESLOT #1 - 11am to 3pm
TIMESLOT #2 - 3:30pm to 7:30pm
The Party Barge comes with: large grill (we provide the propane!), great sound system (just bring your laptop/phone/MP3 player for music), adult life jackets (if you will have small children, please bring life jackets to fit them), noodles, 70 chairs, one 8'table, one 4'ice chest, bathroom and a great tube slide (from 2 nd level down to the water). For an additional $150.00/hour, 2 hours can be added to the front end of timeslot #1 and 1 hour on the back end of timeslot #2.
DEPOSIT: A $250 deposit is required at the time of reservation. The deposit is refundable after the cruise has been completed and the Boat Captain has cleared the boat. Deposit will be refunded the following Tuesday.
CANCELLATION POLICY: Once deposit is paid we cannot cancel or change the date or time unless approved by the marina manager or owner. Weather cancellations are to be determined by the marina manager or owner. No shows will be billed in full for the time reserved.
RIVIERA MARINA REQUIRES ALL OF THE FOLLOWING INFORMATION:
NAME:
EMAIL:
PHONE:
CC#, Include 3 digit CVC code:
ZIPCODE:
NUMBER OF PEOPLE:
DATE OF CRUISE:
TIME OF CRUISE:
WHAT TYPE OF PARTY?: (Sorority, Fraternity, Business Group)
COPY OF TDL#:
TO CONFIRM YOUR BOOKING, YOU MUST REPLY TO OUR EMAIL WITH A SIGNED COPY OF YOUR DEPOSIT RECEIPT AND A COPY OF YOUR VALID DRIVERS LICENSE. THANK YOU, RIVIERA MARINA!
Have a Question?
To request more information about the marina, please complete the contact form or call (512)250-8321.